Spa and gym at Hotel Apartaments Trainera
The spa and gym is a space to relax with the whole family, whether in winter to recover from a day of skiing, or in summer after returning from a long excursion in the Aigüestortes and Lake Sant Maurici National Park.
350m2 dedicated to family comfort and well-being with a maximum capacity of 40 people.
Spa and gym hours
Weekdays: from 9 a.m. to 1 p.m. and from 5 p.m. to 9 p.m.
Holidays and vacation periods: from 9 a.m. to 10 p.m. (minors can enter until 8 p.m.).
Spa and gym prices
Clients staying at the Hotel, Apartments and Hostal Trainera have free access to the spa and gym area. The spa and gym is open to the public.
From Monday to Friday, not holidays (or not included in holiday periods): check at reception.
Saturdays, Sundays, holidays and vacation periods: €20 adults / €10 children up to 10 years old.
Bathrobe and slippers rental: €5 per stay
Facilities of our spa
The spa center has:
✓ Therapeutic pool with a 42.50m2 sheet of water and a depth of 1.10m with two swan necks, two waterfalls and a countercurrent swimmer
✓ Children's pool with 9.10m2 of water sheet and 50cm depth
✓ 6-seater hot tub
✓ Sauna
✓ Steam bath
✓ Scottish shower
✓ Nebulizing shower
✓ Large rest area with hammocks
✓ Massage cabin with a varied menu: stimulating, relaxing, therapeutic, etc.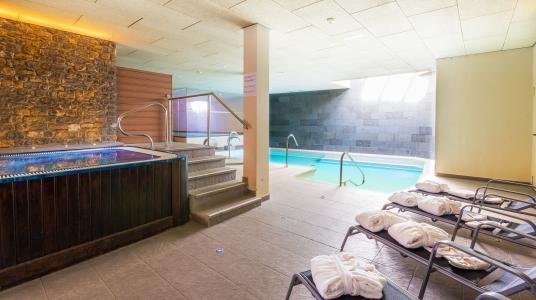 Facilities of our gym
The gym has:
✓ Treadmill
✓ Upright bike
✓ Elliptical trainer
✓ Seated rowing machine
✓ Steppers
✓ Quadriceps extension
✓ Punching bag
✓ Seesaw with mat for abdominals
✓ Two TV with satellite
✓ Massage cabin with a varied menu: sports, stimulating, relaxing, etc.