Services of Apartaments Trainera
Immerse yourself in an enriching experience at Apartaments Trainera, where a complete variety of meticulously planned services ensures your comfort and enjoyment. From moments of relaxation and entertainment to extraordinary culinary experiences, we provide everything you need to make your stay unforgettable.
Family spa
Apartaments Trainera has a spa that is ideal for family vacations (or for a relaxing getaway as a couple!). The spa has a children's pool, a therapeutic pool with swan necks, waterfalls and a counter-current swimmer, a hydromassage bath, a sauna, a steam bath, a Scottish shower, a mist shower, a rest area with hammocks and a massage cabin.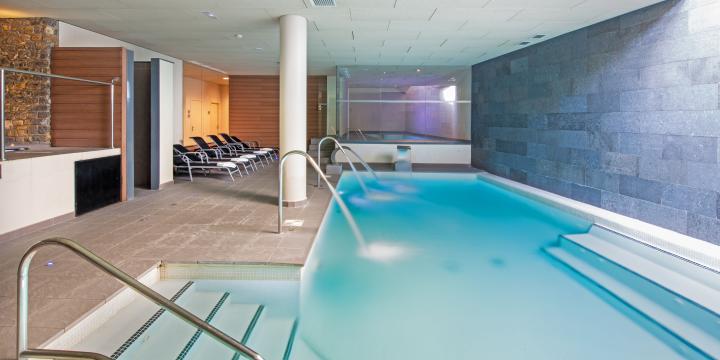 Children's area
Apartaments Trainera is an ideal place for families with children. We have 2 play areas: one inside and one outside. The indoor children's area has a table football and other games so that the little ones can be entertained while you relax in the living room. The outdoor area, only open in summer, has a fenced area with a sandy area.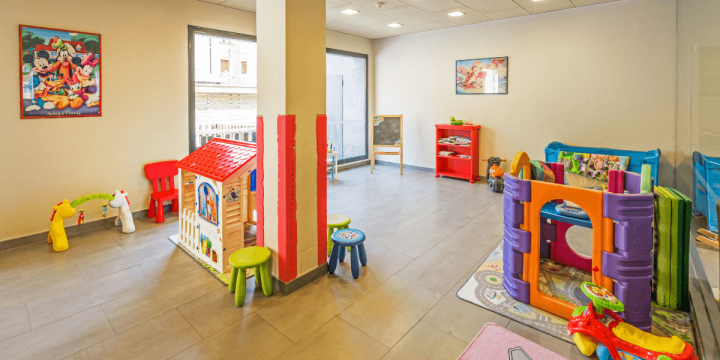 Mini shop
On the ground floor of Apartaments Trainera you will find a mini store with basic products, in case you have left a toothbrush or some wipes.
The mini shop is open with the same hours as the reception: weekdays from 9am to 1pm and from 5pm to 9pm and weekends and holiday periods, from 8am to 11pm.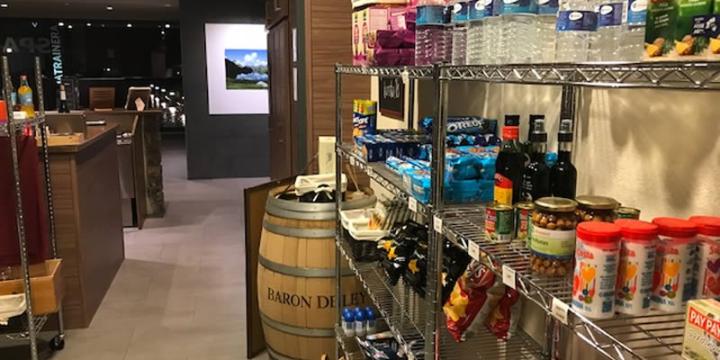 Laundry
Traveling with children involves clothing logistics that only you know. For this reason, at Apartaments Trainera you will find an 8kg industrial washing machine, with a washing time of 20 to 25 minutes, and with 4 programs that include soap and fabric softener. In the hotel laundry you will also find an 8kg industrial dryer with 4 drying programs.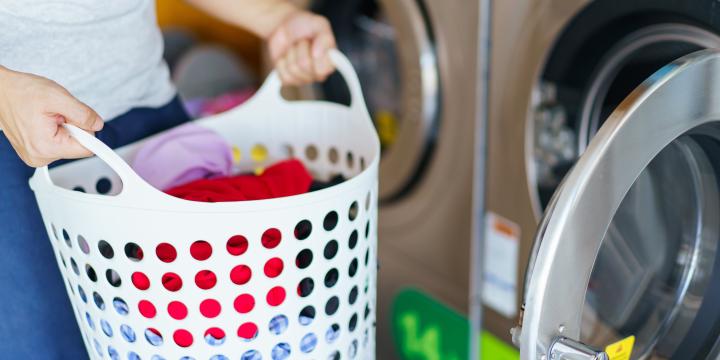 Gym
The gym at the Hotel Apartaments Trainera is designed so that you do not stop being in shape during your holidays. In addition, it is ideal to prepare you for those demanding excursions to the Pyrenees. The gym has a treadmill, upright bike, elliptical bike, seated rowing machine, stepper, quadriceps extension, punching bag, seesaw with mat for abs, and 2 televisions.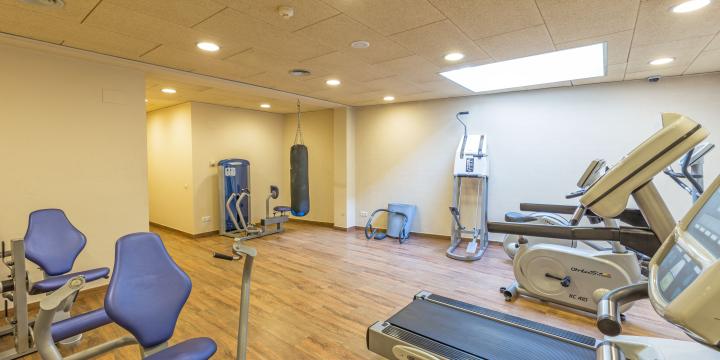 Multipurpose room
Hotel Apartaments Trainera has a 110m2 multipurpose room. The multipurpose room is ideal for organizing meetings or different activities, from family reunions, banquets, company meetings, product presentations, photographic exhibitions, fitness classes, etc.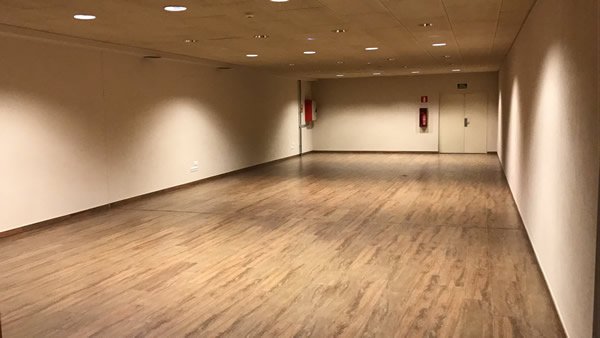 Charging for electric vehicles
A charging point for electric or plug-in hybrid vehicles has been included in our facilities.
This point is at the entrance of our establishment and is active 24 hours a day, differentiating the price of the night charge from the day charge. To be able to use them, they must request the card at the reception and they will be able to choose between different charging speeds: slow or fast. This service is new and is not included in the price of the stay.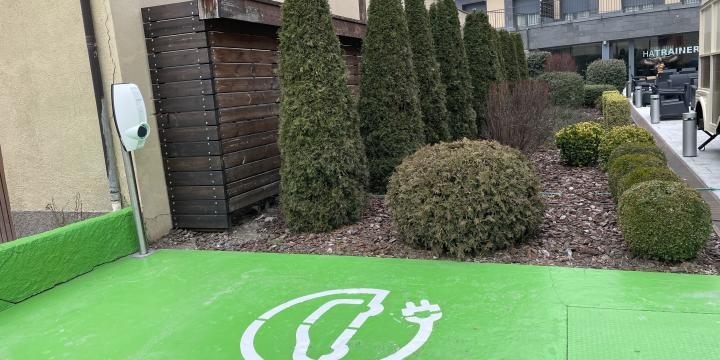 Bike storage
Also in the car park, the Hotel Apartaments Trainera has a closed room to store your bicycle. In addition, there is an area set up for cleaning (with a water gun, cleaning products and cloths) and maintenance (with a workshop support and various tools). We also have space to store the carts to transport the bicycles in the car.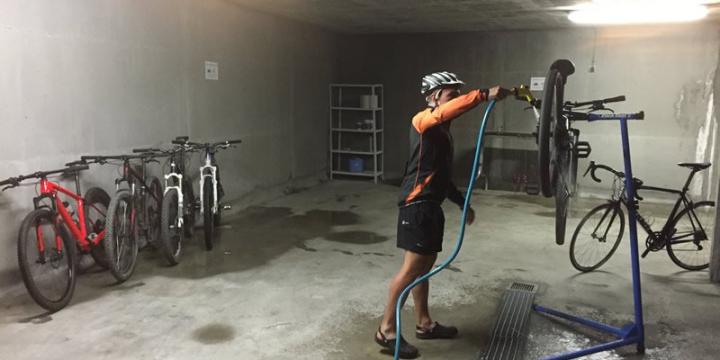 Parking
The Hotel Apartaments Trainera has a covered parking for 30 cars. The car park has direct access to the rooms and we have a luggage trolley to facilitate the transfer of your luggage to your room or apartment. The price of parking is €15 per car per day.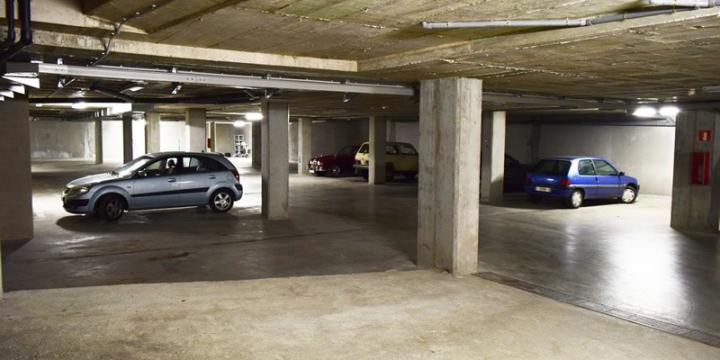 Living room with fireplace
The living room with fireplace at the Hotel Apartaments Trainera is a very cozy room and ideal for enjoying a beautiful evening with family or friends. Ideal for relaxing after a day hiking in the mountains or skiing in Baqueira-Beret, the sofas and the fireplace invite you to read, chat, or watch a report on the projector.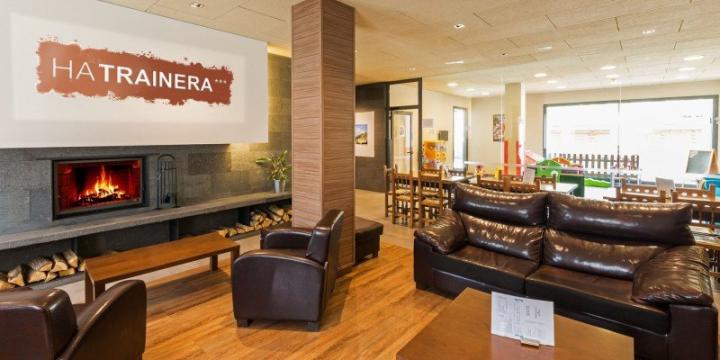 Sustainability
Since the last extension and improvement of the Hotel Apartaments Trainera, in August 2009, we have applied measures to be more sustainable. The air conditioning of the entire building is through geothermal energy: in winter, hot water passes through the underfloor heating, and in summer, cold water passes, giving a sensation of comfort. We also apply selective garbage collection, rainwater separation, low-consumption lighting...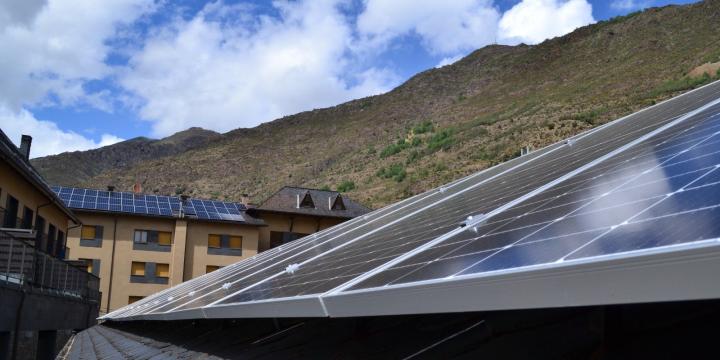 Free shuttle service to the ski slopes of Baqueira Beret (La Bonaigua)
Exclusive service for lodged clients.
It is necessary to make a reservation prior to the reception, otherwise the service will not be provided.
Limited places (7 places each way)
Departure time from the Hotel Trainera 8:30 a.m. and 9:30 a.m.
Pick up time at Port de la Bonaigua 3:30 p.m. and 4:30 p.m.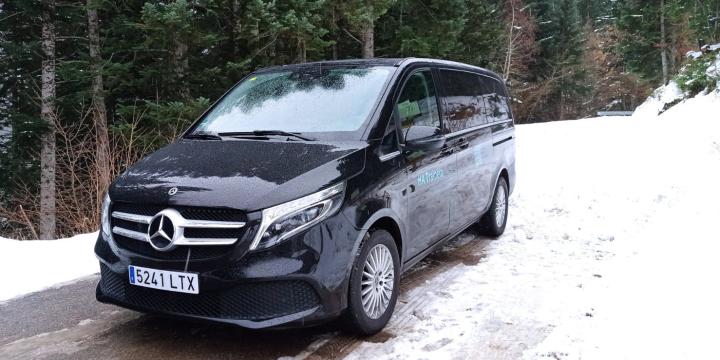 Food truck
The new "Supo-Supo", located in the garden of our establishment, is a Food truck that offers different types of food and drinks, to take away or have on our terrace. The name "Supo-Supo" corresponds to the term Pallarés to describe an unexpected "encounter" between two people, so it is possible that you end up doing "Supo-Supo" with our van at the entrance to the terrace.
Ask us about the schedules and enjoy the elaborations both in winter and summer.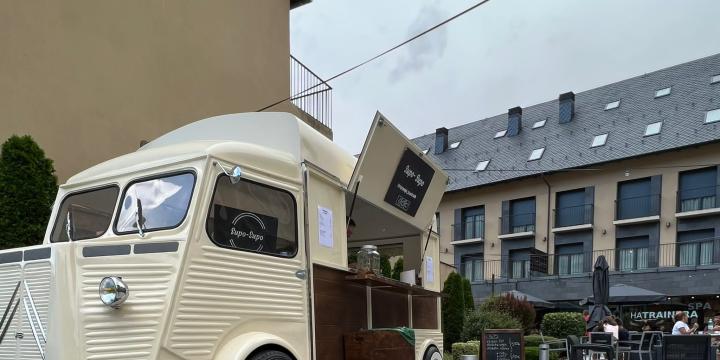 Bar cofee shop
The breakfasts at Hotel Apartaments Trainera are served between 8:00 a.m. and 10:30 a.m. in a varied hot and cold, sweet and savory buffet: bread with tomato, assorted cold cuts, toast, butter and jam, coffee, herbal teas, milk, assorted juices, fruit, yoghurts, cereals, scrambled eggs, bacon, fried eggs and assorted pastries. The cafeteria serves a varied menu of sandwiches and coffees throughout the day.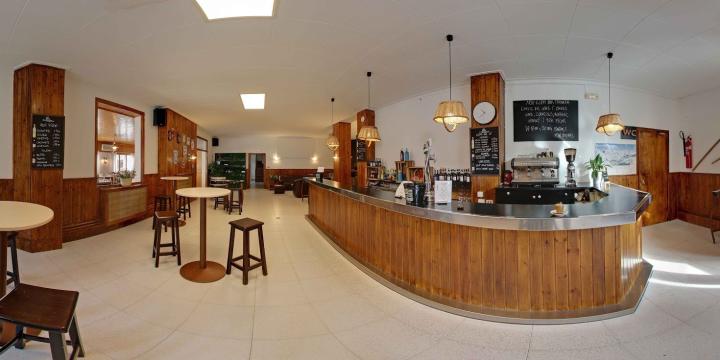 Restaurant
Restaurant Trainera is a cozy space with traditional Pyrenean cuisine. The gastronomic offer is divided between the menu and the daily menu, with special menus for people with allergies, vegans, vegetarians and also for athletes. We have a children's menu. The restaurant hours are from 8pm to 10pm, but room service is available from 9am (not available for hostel guests).